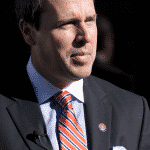 On Thursday morning, Dummit Fradin's Greensboro office hosted a meet-and-greet for 6th District Congressional Candidate Mark Walker. Mark Walker, a Republican from Greensboro, addressed those in attendance about his decision to run for election despite not having been a career politician. Mr. Walker also spoke about his desire to increase the opportunities available to small businesses by reducing governmental restrictions. Mr. Walker currently holds a 23-point lead over his opponent, Democrat Laura Fjeld according to polling conducted in September.
Mr. Walker was joined by Congressman Aaron Schock (R-IL), who is seeking his fourth term in the United States House of Representatives representing Illinois' 18th Congressional District. Representative Schock, a member of the Ways and Means Committee and considered by many to be a significant rising star within the Republican Party, spoke extensively on the need to focus on the House of Representatives elections around the country, which he felt may not be getting the same amount of attention as the Senate elections.
Jon Hardister, the North Carolina House Representative for District 59, was also in attendance as were local judicial candidates Michael Robinson (N.C. Supreme Court candidate), William Southern (N.C. Court of Appeals candidate), and Charles Winfree (N.C. Court of Appeals candidate).