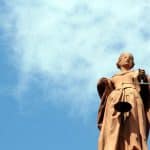 Dummit Fradin recently received media attention in a case involving five Kernersville police officers who violated the constitutional rights of a Surry County couple. The lawsuit, which was filed in July 2014, alleged that the five police officers assaulted, arrested, and seized $4,000 from one plaintiff, and then seized $16,000 from the other plaintiff, all without probable cause. A U.S. District Judge has denied the officers' request for a summary judgment in their favor, showing that the police's actions were unlawful.
"This is a big win," said Clarke Dummit, of criminal defense firm Dummit Fradin. "It's clear-cut that the police are not allowed to do what they did. Now it's a question of damages, and that will be a jury issue."
According to the complaint, the plaintiffs went with a friend, Leonardo Lopez Garcia, to Chalarka Tax Office in May 2014 to set up two businesses. The previous day, the owner of the tax office had reported a man with a gun to the police. She called the police again on the 22nd to report that the man, Garcia – who was her daughter's boyfriend – was at the tax office with the gun. When police arrived, they checked him and found him unarmed. Police then turned their attention to the two plaintiffs after finding a $5 bill on the ground that tested positive for cocaine. Although the plaintiff denied that the bill was his, police proceeded to throw him to the ground, kick him, and strike him in the face while they conducted a search of his vehicle. Police confiscated $20,000 from the plaintiffs.
The police lacked probable cause to make an arrest or to use the level of force that was used, because they had no valid reason to believe that the plaintiffs were involved in any sort of crime. Although the couple did have large amounts of cash, this is not enough to prove that the couple was involved in illegal drug activity. Although the search of the vehicle was lawful after finding the bill, the confiscation of the couple's money was illegal.
The city of Kernersville was also originally named in the suit but was later removed.